RAVENOL Natur Petroleum
RAVENOL Natur-Petroleum
is a pure product of the petroleum distillation. It is an odorless clear, colorless liquid.
Application Notes:
RAVENOL Natur-Petroleum is for use in kerosene lamps and torches.
Adjust the burner that the flame burns without smoke and soot. If necessary, re-adjust and refill. Observe the operating instructions of the lamp manufacturer.
Do not pour in fire. The product is combustible.
Lamps filled with this liquid keep absolutely out of the reach of children.
Characteristic:
RAVENOL Natur-Petroleum offers:
Odourless lamp oil.

No blacks at optimum burner adjustment.

Highly flammable.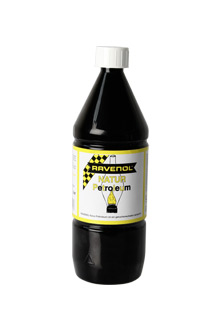 貨號: 1350110
包裝:

1L|1350110-001-01-999
208L|1350110-208-01-999
| 項目 | 單位 | 數值 | 規範 |
| --- | --- | --- | --- |
| Colour | | bright, clear | visual |
| Density at 15°C | kg/m³ | min. 790 | EN ISO 12185 |
| Boiling point | °C | 192 – 245 | ISO 4925 |
| Flash point | °C | min. 74 | DIN ISO 2592 |
| Aromatics | % | max. 0.2 | UV 1 |
| Refractive index at 20 °C | | 1.430 - 1.450 | ASTM D 1218 |
| Sulfur content | mg/kg | max. 1 | ASTM D 4045 |
| Aniline point | °C | 72 | ASTM D 611 |
| Benzene content | mg/kg | max. 3 | EC-A-G03 |
所有數據均為約數,受習慣的變化。