RAVENOL Super EP-Langzeitfett
RAVENOL Super EP-Langzeitfett is a high quality grease with heavy-metal-free EP additives. This generation of additive packages ensures a long life of the parts to be lubricated and reduces maintenance costs.
RAVENOL Super EP-Langzeitfett is due to its smooth structure is easily conveyed.

RAVENOL Super EP-Langzeitfett is based on high-quality base oil by using lithium soaps (Li-12-hydroxy stearate) as thickener. Due to this they avail of an outstanding work resistance. Futhermore, RAVENOL Super EP-Langzeitfett contain additives to improve the rust and corrosion-preventing behaviour.

Application Notes:
RAVENOL Super EP-Langzeitfett is used for the lubrication of heavily loaded plain and rolling bearings under the influence of moisture, vibration and shock loads. The standard applies to the lubrication of chassis, wheel bearings and universal joints in the automotive sector as well as machinery and general industry, construction
industry, agriculture.
Quality Classifications:
RAVENOL Super EP-Langzeitfett is approved, tried and tested for aggregates specifying:
Specifications:
DIN 51 502: KP2K-30, ISO 6743 Teil 9: ISO-L-XCCFB2
Approvals:
LOVAT LOV-204
Characteristic:
RAVENOL Super EP-Langzeitfett offers:
Universal application, multi-purpose mixed pattern for machinery.

Excellent impact and wear-EP.

Very good oxidation and corrosion protection even in the presence of moisture.

Very good mechanical stability.

Excellent water resistance.

Long service life and thus extended lubrication intervals possible.

Very good resistance to aging.

Good pumpability, even at low temperatures.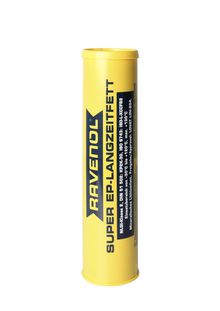 貨號: 1340104
包裝:

400g|1340104-001-02-999
1kg|1340104-001-03-999
5kg|1340104-005-03-999
10kg|1340104-010-03-999
15kg|1340104-015-03-999
25kg|1340104-025-03-999
180kg|1340104-180-03-999
| 項目 | 單位 | 數值 | 規範 |
| --- | --- | --- | --- |
| Colour | | braun | visual |
所有數據均為約數,受習慣的變化。