RAVENOL Standard Truck SAE 30
RAVENOL Standard Truck SAE 30
is mineral mono grade motor oil for trucks. All-season oil for all truck diesel engine types. High protection against friction and abrasion, excellent cold start characteristics. Extended oil change intervals according to manufacturer is recommendations.
Application Notes:
RAVENOL Standard Truck SAE 30 is mono grade motor oil for use in truck diesel engines. Also suitable for stationary plants.
Specifications:
API CD, ACEA E2/B4
Approvals:
MTU Typ 1(DDC BR 2000 u. 4000)
Practice and tested in aggregates with filling:
MB 228.0, MAN 270, Voith Retarder A, Voith DIWA, ZF TE-ML 02C, 03B, 04B, 06A, 07D
Characteristic:
RAVENOL Standard Truck SAE 30 offers:
Good shear stability.

High oxidation stability.

Excellent viscosity temperature behaviour.

Convincing detergent and dispersant characteristics.

High safety reserves.

Good cold start characteristics.

Best corrosion protection.

Suitable for catalysts.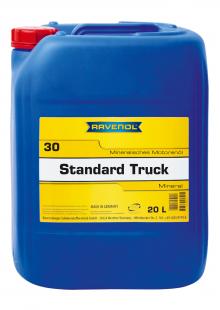 貨號: 1123620
包裝:

20L|1123620-020-01-999
60L|1123620-060-01-999
208L|1123620-208-01-999
1000L|1123620-100-06-999
| 項目 | 單位 | 數值 | 規範 |
| --- | --- | --- | --- |
| Colour | | gelbbraun | visual |
| Viscosity at 40°C | mm²/s | 112,9 | DIN 51 562 |
| Viscosity at 100°C | mm²/s | 12,1 | DIN 51 562 |
| Viscosity index VI | | 96 | DIN ISO 2909 |
| Pourpoint | °C | -24 | DIN ISO 3016 |
所有數據均為約數,受習慣的變化。