RAVENOL LKW ATF Synthetik
RAVENOL LKW ATF Synthetik is a fully synthetic automatic transmission oil developed specifically for the latest generation of commercial vehicle automatic transmissions.
RAVENOL LKW ATF Synthetik allows oil change intervals to be extended even under severe operating conditions. A new type of additive technology allowed ultimate performance to be achieved with respect to ideal and constant friction characteristics, excellent shearing stability, fluidity at low temperatures, steady wear protection and outstanding oxidation stability.

Application Notes:
RAVENOL LKW ATF Synthetik was developed for use in automatic transmissions in motor vehicles as well as torque converter and power-shift transmissions with the indicated specifications.
Practice and tested in aggregates with filling:
ZF TE-ML 14E, ZF TE-ML 16N, MAN 339 Typ Z4 (ZF Ecomat 150 000 km), Allison TES-295 (TranSynd Fluid), Caterpillar 6-speed CX31 und 8-speed Super-Heavy-Duty CX35 transmissions, Renk Doromat, Voith 55.63353x (vorher G 607) und 55.63363x (vorher G 1363)
Characteristic:
RAVENOL LKW ATF Synthetik offers:
Reliable protection from wear, sludge, adhesion and corrosion.

Excellent, highly shearing stable viscosity-temperature properties.

Trouble-free in very low and very high temperatures.

Thermally extraordinarily high resilience.

Non-foaming even in extreme conditions.

Neutral to sealants.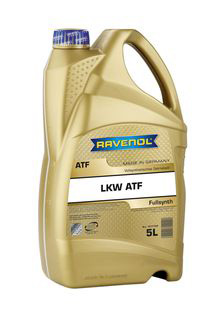 貨號: 1211104
包裝:

5L|1211104-005-01-999
10L|1211104-010-01-999
20L|1211104-020-01-999
60L|1211104-060-01-999
208L|1211104-208-01-999
| 項目 | 單位 | 數值 | 規範 |
| --- | --- | --- | --- |
| Colour | | rot | visual |
| Density at 20°C | kg/m³ | 857 | EN ISO 12185 |
| Viscosity at 40°C | mm²/s | 39 | DIN 51 562 |
| Viscosity at 100°C | mm²/s | 7,7 | DIN 51 562 |
| Flash point(COC) | °C | 200 | DIN ISO 2592 |
| Pourpoint | °C | -51 | DIN ISO 3016 |
所有數據均為約數,受習慣的變化。