RAVENOL Schneefräse 4-Takt 0W-30
RAVENOL Schneefräse 4-Takt SAE 0W-30
is high quality fully synthetic green coloured four-stroke engine oil based on the modern synthesis technology. Because of special balanced additive package and special formulation it achieves the high viscosity index. Excellent cold start characteristics provide the optimal lubricating safety in the cold-running phase. Because of the noticeable fuel economy RAVENOL Snow blower 4-Takt SAE 0W-30 contributes to the reduction of pollutant emissions and protecting the environment.
Application Notes:
RAVENOL Schneefräse 4-Takt SAE 0W-30 is fuel efficient engine oil special conceived for 4-stroke snow blower engines.
Quality Classifications:
RAVENOL Schneefräse 4-Takt SAE 0W-30 corresponds to:
Specifications:
API SL, ACEA A3/B3/B4, SEB 181.222, 181.226
Practice and tested in aggregates with filling:
Honda, MTD, TORO, Yard-Man, CubCadet, Briggs&Stratton, McCulloch, Craftsman, Murray, Ariens, Caiman, Husqvarna, Partner, Snapper, Stiga, Swisher, White Outdoor, Canadiana
Characteristic:
RAVENOL Schneefräse 4-Takt SAE 0W-30 offers:
Fast oiling of the engine, also by low temperatures.

Low oil consumption because of the low evaporation tendency.

Excellent wear protection by high pressure.

Excellent corrosion protection.

Safety towards sludging, coking, laking and corrosion also in unfavourable operational conditions.

No oil caused deposits in combustion chambers, in piston ring zone and on valves.

Neutrality against seal materials.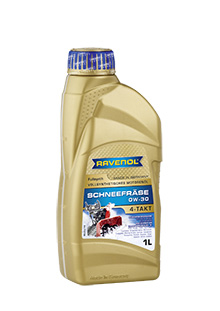 貨號: 1151106
包裝:

1L|1151106-001-01-999
4L|1151106-004-01-999
| 項目 | 單位 | 數值 | 規範 |
| --- | --- | --- | --- |
| Colour | | grün | visual |
| Density at 20°C | kg/m³ | 855 | EN ISO 12185 |
| Viscosity at -35°C | mPa.s | <6200 | DIN 51 562 |
| Viscosity at 40°C | mm²/s | 66 | DIN 51 562 |
| Viscosity at 100°C | mm²/s | 11,8 | DIN 51 562 |
| Viscosity index VI | | 175 | DIN ISO 2909 |
| Flash point(COC) | °C | 215 | DIN ISO 2592 |
| Pourpoint | °C | <-50 | DIN ISO 3016 |
| TBN | mgKOH/g | 9 | DIN ISO 3771 |
所有數據均為約數,受習慣的變化。