RAVENOL TTC COLD CLIMATE -60°C - PROTECT C11
NITRIT-, AMIN-, PHOSPHAT- FREI
TRADITIONAL TECHNOLOGY COOLANT, ANTIFREEZE
RAVENOL TTC COLD CLIMATE -60°C is an ready to use, prediluted eco-friendly 1.2- Ethanediol (monoethylene glycol) based nitrite, amine and phosphate-free coolant for cooling circuits in combustion engines which provides maintenance-free corrosion and frost protection. The product is formulated as a long-term coolant based on a proven inhibitor development. The product is suitable for regions with cold climate.
The quality of an antifreeze is no longer just determined by the antifreeze effect (which automatically exists in an ethylene-glycol based product), but by the rust protection. That is why automakers subject antifreeze to lengthy corrosion and cavitation tests.
RAVENOL TTC COLD CLIMATE -60°C protects the cooling system from rust, frost, and in summer, from overheating.

Application Notes:
RAVENOL TTC COLD CLIMATE -60°C is a prediluted coolant with frost and rust protection for year-round use in automotive engines for regions with cold climate.
Even in summer coolant must contain enough antifreeze to ensure good corrosion and overheating protection.
Instructions: Add RAVENOL TTC COLD CLIMATE -60°C to radiator to fill line.
Specifications:
VW TL 774-C (acc. to G11 quality), BS 6580 (GB), O Norm V 5123 (Österreich), JIS K 2234 (Japan), CUNA NC 956-16 (Italien), AFNOR R15-601 (Frankreich), SAE J1034, UNE 25-361 (Spanien), ASTM D 4985, ASTM D 1384, ASTM D 2570, ASTM D 2809, FORD WSS-M97B51-A, FIAT 9.55523, FIAT PARAFLU 11, IVECO 18-1830, ASTM D 3306 Type 1, ASTM D 6210 Type 1-FF, CHRYSLER MS 7170
Characteristic:
RAVENOL TTC COLD CLIMATE -60°C offers:
Excellent for light metal engines.

Good reserve alkalinity.

High-quality corrosion additives for optimal corrosion protection.

Elastomer compatible with elastomers used in automotive radiators.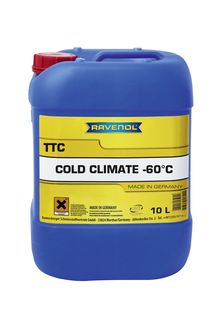 貨號: 1410140
包裝:

10L|1410140-010-01-999
20L|1410140-020-01-999
60L|1410140-060-01-999
208L|1410140-208-01-999
所有數據均為約數,受習慣的變化。