RAVENOL MARINE Gear Lube
RAVENOL MARINE Gear Lube
contains high-quality base oils, with a balanced combination of additives. This guarantees a high load carrying capacity, wear protection and oxidation stability.
Because of the balanced additive combination good viscosity-temperature behavior, low pour point and suppression of foam formation allows use with different operating conditions.
Application Notes:
RAVENOL MARINE Gear Lube is gear oil for lubricating when GL-5 transmission types are required.
Specifications:
API GL-5
Practice and tested in aggregates with filling:
OMC, VOLVO PENTA, Mercruiser, YANMAR
Characteristic:
RAVENOL MARINE Gear Lube offers:
Good adhesion and pressure-resistant lubricating film.

Excellent oxidation stability.

Very good viscosity-temperature behaviour.

Wear-resistant effect.

No foaming tendency.

A neutral behaviour towards metals and sealing materials.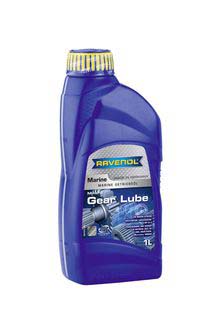 貨號: 1233100
包裝:

1L|1233100-001-01-999
4L|1233100-004-01-999
10L|1233100-010-01-999
20L|1233100-020-01-999
60L|1233100-060-01-999
208L|1233100-208-01-999
1000L|1233100-001-06-999
所有數據均為約數,受習慣的變化。