RAVENOL MARINEOIL PETROL SAE 25W-40
RAVENOL
MARINEOIL PETROL SAE 25W-40
is a modern high additive treated marine engine oil with synthetic additives. It is suitable for inboard and outboard marine gasoline engines.The high additive content guarantees an excellent effect on the detergent, dispersant and anti corrosion characteristics. It is a top quality product with high safety reserves.
Application Notes:
RAVENOL MARINEOIL PETROL SAE 25W-40 is used in boat engines in case the specification SAE 25W-40 is requested.
Approvals:
NMMA FC-W® FB-80813K
Practice and tested in aggregates with filling:
Yamaha, Honda, Suzuki, YANMAR, Mercruiser, VOLVO Penta AB, Kohler, Johnson, Mercury, Evinrude
Characteristic:
RAVENOL MARINEOIL PETROL SAE 25W-40 offers:
Suitability for catalysts.

Excellent detergent and dispersant characteristics.

Very good cold start characteristics.

A high oxidation stability.

An excellent viscosity temperature behaviour.

An excellent corrosion protection.

High safety reserves.

Reduction of emissions.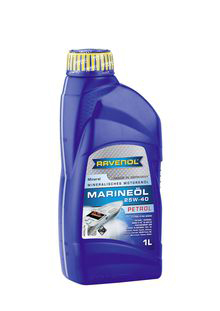 貨號: 1163220
包裝:

1L|1163220-001-01-999
4L|1163220-004-01-999
10L|1163220-010-01-999
20L|1163220-020-01-999
60L|1163220-060-01-999
208L|1163220-208-01-999
1000L|1163220-001-06-999
所有數據均為約數,受習慣的變化。