RAVENOL Getriebeoel SLG SAE 80W-90
RAVENOL
SLG SAE 80W-90 Gear Oil
is a high performance multi-purpose gear oil primarily developed for commercial vehicle transmissions. It is produced from selected base oils together with specially designed additives to offer excellent pumpability at low temperatures and high lubrication protection at high temperatures.
Application Notes:
RAVENOL SLG SAE 80W-90 Gear Oil is a multi-purpose gear oil for universal use in commercial vehicle transmissions, rear axles and auxiliary drives, including highly stressed hypoid-drive axles.
Specifications:
API GL-5, API GL-4, MT-1, MIL-L-2105 A/B/C/D/E
Approvals:
MAN 341 Typ E2
Practice and tested in aggregates with filling:
MAN 3343 Typ M (verlängerte Ölwechselintervalle), ZF-TE-ML 02B, 05A, 12E, 16B, 17B, 19B, 21A, SCANIA STO 1:0, VOLVO 97310
Characteristic:
RAVENOL Getriebeoel SLG SAE 80W-90 offers:
Excellent thermal stability.

Exceptional EP properties.

A good cold flow behaviour at low temperatures.

Extended service life potential.

Compatible with all types of sealing materials.

Reliable protection against wear, sludge, adhesives & corrosion.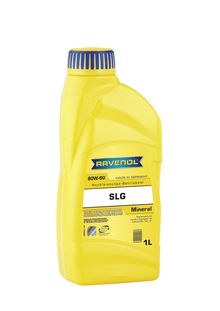 貨號: 1223305
包裝:

1L|1223305-001-01-999
4L|1223305-004-01-999
10L|1223305-010-01-999
20L|1223305-020-01-999
60L|1223305-060-01-999
208L|1223305-208-01-999
1000L|1223305-001-06-999
所有數據均為約數,受習慣的變化。