RAVENOL SU5 ATF Fluid
ATF Professional Line

RAVENOL SU5 ATF Fluid is fully synthetic ATF based on PAO with special additives and inhibition, which ensure the proper function of automatic transmission.
RAVENOL SU5 ATF Fluid is specially developed ATF (Automatic-Transmission-Fluid) for the latest Subaru automatic transmissions. It guarantees a high wear protection in all operating conditions.

RAVENOL SU5 ATF Fluid has red colour.

Application Notes:
RAVENOL SU5 ATF Fluid is suitable for use in five-speed automatic transmissions of Subaru.
Quality Classifications:
RAVENOL SU5 ATF Fluid is tried and tested for aggregates specifying:
Practice and tested in aggregates with filling:
Subaru 4ATF, 5ATF, ATF HP, Subaru K0415-Y0700, Subaru SOA868V940, SOA868V9241, SOA427V1500
Characteristic:
RAVENOL SU5 ATF Fluid offers:
Very good lubricity, also by low temperatures in winter.

High, stable viscosity index.

Very good oxidation stability.

Safety against wear, corrosion and foaming.

Excellent friction constant.

High thermal and oxidative stability.

Excellent cooling capacity.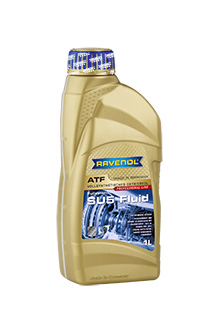 貨號: 1211122
包裝:

1L|1211122-001-01-999
4L|1211122-004-01-999
10L|1211122-010-01-999
20L|1211122-020-01-999
60L|1211122-060-01-999
208L|1211122-208-01-999
所有數據均為約數,受習慣的變化。