RAVENOL ATF JF405E
RAVENOL ATF JF405E is automatic transmission oil ATF on the basis of PAO (Polyalphaolefins) with a special formulation of additives and inhibition for properly function of the transmission.
RAVENOL ATF JF405E is an ATF (automatic transmission fluid) for modern 4-speed automatic transmission JF402E and JF405E of Jatco for Mazda AZ-Wagon, Spiano, KIA Picanto/Morning, Chevrolet Matiz, Opel Agila, Hyundai Atos, Suzuki Wagon-R, Cervo, Nissan Moco, Pino. Guarantees maximum wear protection in all operating conditions. RAVENOL ATF JF405E is red colored.

Application Notes:
RAVENOL ATF JF405E is for use in 4-Stroke automatic transmission JF405E oder JF402E von Jatco für Hyundai SANTRO 1.1L, Hyundai Atoz, KIA MORNING 1.0L und 1.1L, KIA PICANTO 1.0L, KIA VISTO 0.8L, Nissan MARCH 1.0L, Nissan Moco, Nissan Pino, Opel Agila 1.0L, Suzuki Alto 0.7L, Suzuki Cervo 0.7L, Suzuki Cultus 1.3L, Suzuki Kei 0.7L, Suzuki Lapin 0.7L, Suzuki MR Wagon 0.7L, Suzuki Palette 0.7L, Suzuki Wagon R 0.7L, Daewoo Matiz, Mazda AZ-Wagon, Mazda Laputa.
Quality Classifications:
RAVENOL ATF JF405E corresponds to the following specifications for 4-stroke automatic transmission:
Practice and tested in aggregates with filling:
Suzuki 99000-22A80-025, Suzuki ATF 3314, Hyundai 45000-34D00, Hyundai 04500-00130, Hyundai 04500-00430 / JWS3314, Esso JWS3314
Characteristic:
RAVENOL ATF JF405E offers:
A very good lubricating ability even at low temperatures in winter.

A high, stable viscosity index.

A very good oxidation stability.

As far as possible protection against corrosion and foam formation.

Good balanced coefficient of friction.

A high thermal and oxidative stability.

A exzellent cooling capacity.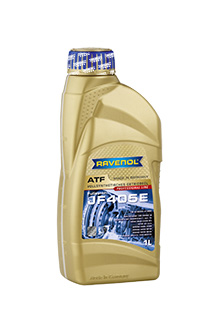 貨號: 1211118
包裝:

1L|1211118-001-01-999
4L|1211118-004-01-999
10L|1211118-010-01-999
20L|1211118-020-01-999
60L|1211118-060-01-888
208L|1211118-208-01-888
所有數據均為約數,受習慣的變化。