RAVENOL Getriebeöl UTTO Arctic
RAVENOL GETRIEBEÖL UTTO Arctic
is a multi-purpose transmission and hydraulic oil based on HC and PAO base oils, that can be used in combined hydraulic and transmission systems of many modern tractors and agricultural equipment . High quality base oils and selected additives provide a trouble-free operation of all units even in coldest temperatures.
Application Notes:
RAVENOL GETRIEBEÖL UTTO Arctic is a multi-purpose oil for use in both separate combined hydraulic and transmission systems, as well as power take off transmissions as required by many farm tractors, excavators and other agricultural and off-raod plant which specify this type of product. It is suitable for wet brakes in power shift clutches and auxiliary drives.
Specifications:
SAE 75W, API GL-4, ISO VG32
Practice and tested in aggregates with filling:
J.I.Case (International Harvestor und Steiger) -JIC-145/MS-1210, JIC-185/MS-1204, JIC-185/MS-1205, MS-1206 MS-1207, JIC 143/144 B6 (International Harvestor), SEMS 17001(Steiger), John Deere- J20C, J20D, J20A, J20B, J14B/C, J21A, Deutz-Allis, Allis-Chalmers (Agco)-Part.9003088, 9003089,9003091, New Holland, Ford New Holland (Fiat), Versatile-CNH MAT 3526, CNH MAT 3525, ESN-M2C41-B, ESN-M2C48-B,M2C48-C/C2/C3, ESN-M2C53-A, ESN-M2C86-B, ESN-M2C134-A, B,C,D, Versatile, Hesston, Hesston-Fiat- AF-87, Massey-Ferguson, minneapolis Moline, New Idea, Oliver (Agco)- M1110, M1127 A/B, M1129-A, M1135, M1141, Q-1705, Q-1766, Q-1722, Q-1802, Q-1826, Caterpillar-TO2, Kubota- UDT Fluid, ZF TE-ML 3E, 3F, 5F, 6K
Characteristic:
RAVENOL GETRIEBEÖL UTTO Arctic offers:
A very high stable viscosity index.

A very low pour point.

High oxidation stability.

High load carrying capacity.

Extensive protection from corrosion, wear and foaming.

Excellent friction coefficient in oil-cooled brakes (wet brakes) in power shift clutches and auxiliary drives.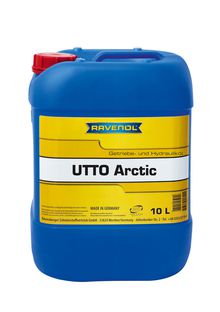 貨號: 1310711
包裝:

10L|1310711-010-01-999
20L|1310711-020-01-999
60L|1310711-060-01-999
208L|1310711-208-01-999
所有數據均為約數,受習慣的變化。