RAVENOL Kaltreiniger
RAVENOL Kaltreiniger for heavily soiled engines and machine parts.Removes oil - degreases - cleans - protects.
RAVENOL Kaltreiniger quickly and effortlessly removes soiling, oil and grease residue from engine parts, machines, tools, floors and tiles.Quick separating cleaner, AOX-free.No interference with oil separators.

Application Notes:
Spray or brush RAVENOL Kaltreiniger onto the soiled parts or dip them into it, if necessary, carry out mechanical cleaning with brush, etc. Allow to take effect for a short period of time, then remove oil and greasy deposits by rinsing with water.
Characteristic:
RAVENOL Kaltreiniger offers:
Quick and easy cleaning and degreasing.

Removal of oil and grease residues.

Quick separating cleaner.

AOX-free.

No interference with oil separators.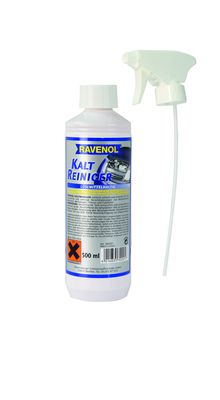 貨號: 1360001
包裝:

500ml|1360001-001-01-999
1L|1360001-001-05-999
5L|1360001-005-01-999
10L|1360001-010-01-999
60L|1360001-060-01-999
208L|1360001-208-01-999
所有數據均為約數,受習慣的變化。