RAVENOL Petroleum Extra
RAVENOL Petroleum - extra -is a cleansing product for universal use in areas such as metalworking and machinery, workshops, wood processing, agriculture, household and others.
Can also be used as lamp fuel in the construction industry.

Application Notes:
Contains mineral oil product. Not be used as fuel, heating oil or lubricants or for production of such substances.
Keep container tightly closed and store in a cool place.
Do not discharge into the wastewater!
Characteristic:
EU Hazard Regulations:
Just a sip of lamp oil - or even sucking on a lamp wick - can lead to life-threatening lung damage.

Lamps which are filled with this liquid must to be kept out of the reach of children.
Customs Regulation:
Energy tax advantaged product! Can not be used as a fuel, unless such use is allowed under the Energy Tax Act or the energy tax implementation. Any other use is as a fuel tax and criminal penalties! In cases of doubt, please contact your local customs office.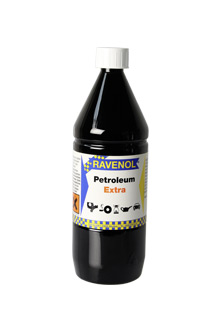 貨號: 1360125
包裝:

1L|1360125-001-01-000
5L|1360125-005-01-000
10L|1360125-010-01-000
所有數據均為約數,受習慣的變化。