RAVENOL Sommer-Scheibenreiniger 1:100 (Konzentrat)
RAVENOL Sommer-Scheibenreiniger Konzentrat 1:100
is a very highly concentrated Summer Time Glass Cleaner additive for windscreen washer and headlight washer systems for use in all types of vehicles. It is highly effective formulation removes road grime, dust, dirt and insect debris and eliminates marks and streaking, leaving a pleasant orange fragrance.
Application Notes:
RAVENOL Sommer-Scheibenreiniger Konzentrat 1:100 is very highly concentrated and most effective when diluted in the ratio 1:100 with water.
Caution:
Keep out of reach of children
In case of skin contact, rinse with plenty of water.
Specifications:

Polycarbonatstreuscheiben und Fächerdüsen (Temp. ≥0 ˚C) UBA-Nr. 07040042

Characteristic:
Ingredients:
Aqueous solution with a mixture of anionic surfactants, dyes and fragrances.
Contains <5% ethanol. 0.0015% denatured with Bitrex.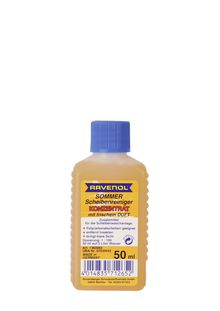 貨號: 1360082
包裝:

50ml|1360082-050-05-045
208L|1360082-208-01-000
| 項目 | 單位 | 數值 | 規範 |
| --- | --- | --- | --- |
| Form | | flüssig | - |
| Colour | | orange | visual |
| Smell | | orange | - |
| Density at 20°C | kg/m³ | 1005 | EN ISO 12185 |
所有數據均為約數,受習慣的變化。