RAVENOL Hot Red Grease HRG 1
RAVENOL Hot Red Grease HRG 1
is a red lithium complex soap lubricating grease based on high quality base oils. Excellent walk stability, rust and corrosion protection. Application for the lubrication of roller and friction bearings under extreme pressure at high bearing temperatures. Particularly recommended for the lubrication of wheel bearings on commercial vehicles and for high-speed passenger car wheel bearings.
Application Notes:
RAVENOL Hot Red Grease HRG 1 is used as an universal grease in the industrial sector and in the motor vehicle sector.
RAVENOL Hot Red Grease HRG 1 is particularly recommended as a grease for friction and roller bearings on motor vehicles, equipment, machinery, conveyors, construction vehicles, etc.
Quality Classifications:
RAVENOL Hot Red Grease HRG 1 is tried and tested for aggregates specifying:
Specifications:
DIN 51 502: KP1P-35, ISO 6743 Teil 9: ISO-L-XCEEB1
Characteristic:
RAVENOL Hot Red Grease HRG 1 offers:
Walk stability.

Resistance to oxidation.

Water resistance.

Good corrosion protection properties.

High thermal load capacity.

High pressure susceptibility.

Good adhesion.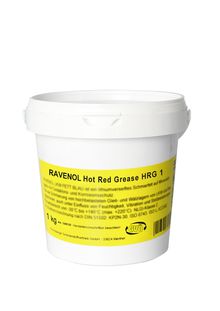 貨號: 1340120
包裝:

1kg|1340120-001-03-999
5kg|1340120-005-03-999
10kg|1340120-010-03-999
15kg|1340120-015-03-999
25kg|1340120-025-03-999
180kg|1340120-180-03-999
| 項目 | 單位 | 數值 | 規範 |
| --- | --- | --- | --- |
| Colour | | rot | visual |
所有數據均為約數,受習慣的變化。