RAVENOL ODL 32 Druckluftoel
RAVENOL ODL 32 Druckluftoel is a special-compressed-air-oil for pneumatic tools of all systems.
RAVENOL ODL 32 Druckluftoel bonds condensed water, has an excellent corrosion protection, wear protection and an extraordinary pressure absorption capacity, a good adhesive power and high aging resistance. Easily conveying- and spray ability, economy consumption. No deposits caused by cleaning effects. Full power of impact.

Application Notes:
RAVENOL ODL 32 Druckluftoel is specially suitable for pneumatic tools with sound-absorbing-case, for lubrication of rock drills, road breaker, chipping hammer and spade hammer, ram machines and other pneumatic aggregates. Application by pre-switch-lubricator according to working instructions or usable directly in the air pipe. Mind the manufacturer´s instructions.
Quality Classifications:
RAVENOL ODL 32 is tried and tested for aggregates specifying:
Practice and tested in aggregates with filling
ATLAS COPCO, Festo, Hilti, Bosch, Makita, Black&Decker, Cress, Ryobi, DeWalt, Sumake, Seno, Hitachi
Characteristic:
RAVENOL ODL 32 offers:
A high performance level.

A very good viscosity temperature behaviour.

A good adherence.

A high aging resistance.

A reliable wear protection.

An excellent corrosion protection.

Neutrality of sealing materials.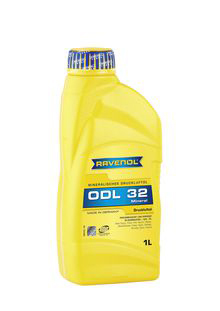 貨號: 1323404
包裝:

1L|1323404-001-01-999
5L|1323404-005-01-999
10L|1323404-010-01-999
20L|1323404-020-01-999
60L|1323404-060-01-999
208L|1323404-208-01-999
| 項目 | 單位 | 數值 | 規範 |
| --- | --- | --- | --- |
| Colour | | gelbbraun | visual |
| Viscosity at 40°C | mm²/s | 32,7 | DIN 51 562 |
| Viscosity at 100°C | mm²/s | 5,4 | DIN 51 562 |
| Viscosity index VI | | 98 | DIN ISO 2909 |
| Pourpoint | °C | -24 | DIN ISO 3016 |
所有數據均為約數,受習慣的變化。