RAVENOL Hydrauliköl TS 10 (HLP)
RAVENOL Hydrauliköl TS 10 (HLP)
is optimal alloyed mineral hydraulic oil with a high performance level and a wide application area of the whole industry. It is characterised by good viscosity temperature behaviour, a high aging resistant and a solid corrosion protection. Efficient additives offer an excellent corrosion protection even under extreme loads. The behaviour of sealing materials is neutral.
Application Notes:
RAVENOL TS 10 Hydraulikoel (HLP) is for universally use in all hydraulic systems. It is recommended in high performance hydraulic systems with high pressure pumps of all types, in sensitive control systems, for hydraulic systems in agriculture, to supply small gearboxes and for use in circulating systems.
Specifications:
DIN 51 524, Part 2, Vickers-Pumpentest, FZG-Test A 8,3/90: 12. Laststufe, MIL-H 24 459, DENISON HF-1, HF-0, HF-2, AFNOR NFE 48 603 HM, Cincinnati Milacron P68 (HM-32), P69 (HM-68), P70 (HM-46)
Practice and tested in aggregates with filling:
Vickers-Pumpentest, VDMA 24568/ ISO 15380, DENSION HF-2/ HF-0, FZG-Test A8, 3/90, AFNOR NFE 48 603 HM, MIL-H 24 459, Cincinnati Milacron P-68/ 69/ 70
Characteristic:
RAVENOL Hydrauliköl TS 10 (HLP) offers:
A high performance level.

A very good viscosity temperature behaviour.

A high aging resistant.

An excellent corrosion protection.

A solid corrosion protection.

Neutrality of sealing materials.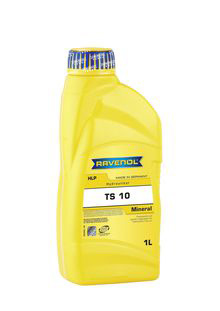 貨號: 1323101
包裝:

1L|1323101-001-01-999
20L|1323101-020-01-999
60L|1323101-060-01-999
208L|1323101-208-01-999
1000L|1323101-001-06-999
| 項目 | 單位 | 數值 | 規範 |
| --- | --- | --- | --- |
| Colour | | gelbbraun | visual |
| Viscosity at 40°C | mm²/s | 11,0 | DIN 51 562 |
| Viscosity at 100°C | mm²/s | 2,8 | DIN 51 562 |
| Viscosity index VI | | 98 | DIN ISO 2909 |
| Pourpoint | °C | -32 | DIN ISO 3016 |
所有數據均為約數,受習慣的變化。