RAVENOL PSF-Y Fluid
RAVENOL PSF-Y Fluid is a fully synthetic steering fluid based on PAO with special additives and inhibition for excellent lubricating.
Due to its special formulation the properties of RAVENOL PSF-Y Fluid are crucial. We assure an excellent cold stability.

Application Notes:
RAVENOL PSF-Y Fluid is specially designed for use in the latest power steering of Volkswagen, Mercedes and Chrysler.
Please note: Follow manufacturer's original equipment number!
Quality Classifications:
RAVENOL PSF-Y Fluid corresponds to:
Practice and tested in aggregates with filling:
VW G009300A2, Mercedes A0009898803, Chrysler 05098158A, MS-5931, MS-9933, 04883077, GM 9985010, 89020661, 1050017, Texaco TL 4634, HONDA 08206-9002/08285-P99-01Z-T1
Characteristic:
RAVENOL PSF-Y Fluid offers:
Extremely low pour point.

Improved viscosity and coefficient of friction behaviour.

A very good protection against consumption.

Excellent thermal stability.

Improved EP-characteristics.

A good foaming behaviour.

Neutral behaviour towards sealing materials.

Reliable protection against corrosion.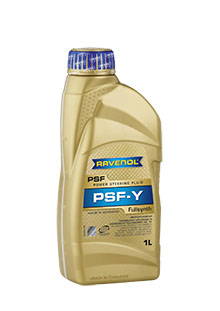 貨號: 1211123
包裝:

1L|1211123-001-01-999
4L|1211123-004-01-999
20L|1211123-020-01-999
60L|1211123-060-01-999
208L|1211123-208-01-999
| 項目 | 單位 | 數值 | 規範 |
| --- | --- | --- | --- |
| Colour | | braun | visual |
| Pourpoint | °C | -51 | DIN ISO 3016 |
所有數據均為約數,受習慣的變化。