RAVENOL Expert SHPD 10W-40
RAVENOL Expert SHPD 10W-40
is a easy running engine oil for the use in heavily used induction motors, turbo diesel engines as well as petrol engines. RAVENOL Expert SHPD 10W-40 is suitable for the use of a mixed car pool. The mixture of unconventional as well as HC basic oils, synthetic components and modern additives guarantees longest oil change intervals and a high corrosion protection at a low oil and fuel consumption.
Application Notes:
RAVENOL Expert SHPD 10W-40 has an excellent flow behaviour even at low temperatures. The quick reach of critical lubrication points provides a considerable corrosion reduction during the warm-up period. Exclusive additives guarantee the best engine cleanness even at short distances.
Quality Classifications:
RAVENOL Expert SHPD 10-40 is approved, tried and tested for aggregates specifying:
Specifications:
ACEA E4/E7, A3/B4, License: API CI-4/SL, API CI-4 beinhaltet: CH-4/CG-4/CF
Approvals:
MB-Approval 228.3, MB-Approval 229.1, Cummins CES 20077, CES 20078, DEUTZ DQC III-10, MAN M 3275-1, Volvo VDS 3, YaMZ, MACK EOM-Plus, MACK EO-N, Renault VI RLD-2, MTU Typ 2, TEDOM 258-3 (61-0-0258)
Practice and tested in aggregates with filling:
Cummins CES 20071,-72, -76, SCANIA LDF, Global DHD-1 VW 500 00, 505 00, Caterpillar TO-2, Allison C-4, Voith Retarder B, IVECO, DAF
Characteristic:
RAVENOL Expert SHPD 10W-40 offers:
Excellent detergent and dispersant characteristics.

Low evaporation.

A high ageing stability.

Protection of reflecting surface formation.

Very good cold start characteristics.

Reduces oil and fuel consumption.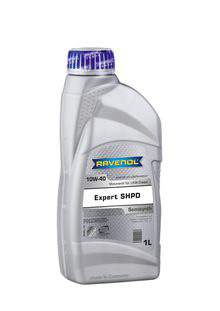 貨號: 1122105
包裝:

1L|1122105-001-01-999
5L|1122105-005-01-999
10L|1122105-010-01-999
20L|1122105-020-01-999
60L|1122105-060-01-999
208L|1122105-208-01-999
1000L|1122105-001-06-999
| 項目 | 單位 | 數值 | 規範 |
| --- | --- | --- | --- |
| Colour | | gelbbraun | visual |
| Viscosity at 40°C | mm²/s | 92,0 | DIN 51 562 |
| Viscosity at 100°C | mm²/s | 13,7 | DIN 51 562 |
| Viscosity index VI | | 151 | DIN ISO 2909 |
| Pourpoint | °C | - 36 | DIN ISO 3016 |
所有數據均為約數,受習慣的變化。