RAVENOL Arctic Truck SAE 0W-30
RAVENOL ARCTIC TRUCK SAE 0W-30 is a special winter oil for use in extreme cold. It is based on a mixture of synthetic polyalphaolefins (PAO) and mineral base oils which remains still liquid at very low temperatures.
RAVENOL ARCTIC TRUCK SAE 0W-30 will circulate and pump at temperatures down to minus 40 Deg. C.

Application Notes:
RAVENOL ARCTIC TRUCK SAE 0W-30 is recommended for use in diesel engines (incl. turbo) and for 4-stroke gasoline engines for heavy duty work in stationary facilities.
RAVENOL ARCTIC TRUCK SAE 0W-30 is used in all engines and transmission that require oil with specifications.
Specifications:
API CH-4/CG-4/SJ
Practice and tested in aggregates with filling:
Global DHD-1, JASO DH-1, Caterpillar ECF-1, Liebherr, MACK EO-M, Komatsu, Hitachi, Cummins CES 20076, Detroit Diesel 7S E270
Characteristic:
RAVENOL ARCTIC TRUCK SAE 0W-30 offers:
An excellent engine protection even after a cold start and under tougher conditions.

Guaranteed at low temperatures down to –40°C a fast lubrication of the motor and a sufficiently thick lubricant film.

Protection against silting, carbon deposits, varnish and corrosion even under adverse operating conditions.

Guaranteed best wear protection and maximum engine cleanliness.

Neutral towards sealing materials.

Very stable and excellent viscosity behaviour.

Excellent shear stability.

Excellent detergent and dispersant properties.

Very good wear and corrosion protection, high oxidation stability.

Protection from foaming.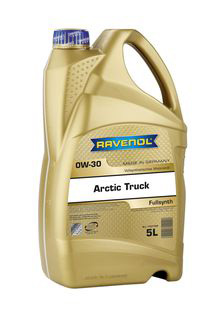 貨號: 1121100
包裝:

5L|1121100-005-01-999
20L|1121100-020-01-999
60L|1121100-060-01-999
208L|1121100-208-01-999
| 項目 | 單位 | 數值 | 規範 |
| --- | --- | --- | --- |
| Colour | | braun | visual |
| Viscosity at 40°C | mm²/s | 55,9 | DIN 51 562 |
| Viscosity at 100°C | mm²/s | 9,9 | DIN 51 562 |
| Viscosity index VI | | 176 | DIN ISO 2909 |
| Pourpoint | °C | -50 | DIN ISO 3016 |
所有數據均為約數,受習慣的變化。