RAVENOL Automatik-Getriebe-Oel Dexron F III
RAVENOL ATF Dexron F III is high performance semi synthetic ATF (Automatic Transmission Fluid).
RAVENOL ATF Dexron F III is designed with high performance base oil with special additives and inhibition to ensure the proper operation of the automatic transmission.

Application Notes:
RAVENOL ATF Dexron F III was developed for use in automatic transmissions with hydraulic steering systems, converters and transmissions.
RAVENOL ATF Dexron F III is especially suitable for use in transmissions with ATF Dexron F III specification.
RAVENOL ATF Dexron F III is not mixable with other ATF brands.
Specifications:
GM DEXRON III F-30140
Approvals:
MB 236.1, MB 236.5, MAN 339 Typ V-1, MAN 339 Typ Z-1
Practice and tested in aggregates with filling:
ZF TE-ML 04D, 14A, 05L, 02F, 03D, 17C, Ford MERCON M-940717, Allison C-4, Caterpillar TO-2, Voith, Nissan
Characteristic:
RAVENOL ATF Dexron F III H offers:
High and stable viscosity index.

Very low flow point.

Excellent oxidation stability.

Extensive protection against wear, corrosion and foaming.

Well tuned friction properties.

Neutral behavior towards sealing materials.

Neutral behavior by inhibition towards non-ferrous metals.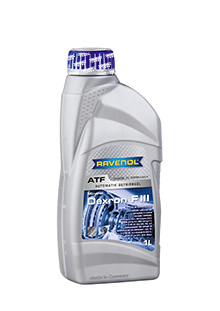 貨號: 1213104
包裝:

1L|1213104-001-01-999
4L|1213104-004-01-999
10L|1213104-010-01-999
20L|1213104-020-01-999
60L|1213104-060-01-999
208L|1213104-208-01-999
1000L|1213104-001-06-999
| 項目 | 單位 | 數值 | 規範 |
| --- | --- | --- | --- |
| Colour | | rot | visual |
| Density at 20°C | kg/m³ | 857 | EN ISO 12185 |
| Viscosity at 40°C | mm²/s | 35,90 | DIN 51 562 |
| Viscosity at 100°C | mm²/s | 7,96 | DIN 51 562 |
| Viscosity index VI | | 204 | DIN ISO 2909 |
| Flash point(COC) | °C | 227 | DIN ISO 2592 |
| Pourpoint | °C | -48 | DIN ISO 3016 |
所有數據均為約數,受習慣的變化。