RAVENOL SNOWMOBILES 4-Takt Fullsynth.
RAVENOL Snowmobiles 4-Takt Fullsynth.
is a high quality, fully synthetic 4-stroke engine oil based on the latest advanced synthetic technology. Specially formulated with an additive package which is designed to maximise the cold starting capabilities and ensure optimal lubrication in the cold running phase, and to offer significant fuel savings and reduced emissions to help protect the environment. Coloured green for easy identification.
Application Notes:
RAVENOL Snowmobiles 4-Takt Fullsynth. is a fuel-efficient engine oil specifically developed for use in 4 -Stroke Snowmobile engines.
Specifications
API SN
Practice and tested in aggregates with filling:
Bombardier, Arctic Cat, Kawasaki, Ski-Doo, Polaris, Yamaha, Suzuki
Characteristic:
RAVENOL Snowmobiles 4-Takt Fullsynth. offers:
Fast lubrication of the engine, even at temperatures below -35 ° C.

Low tendency to evaporate, thereby lower oil consumption.

Enhanced protection against carbon deposits and varnish even in the most unfavorable conditions.

No oil-related deposits in combustion chambers in the piston ring zone and on valves.

Unchanged viscosity throughout the oil change interval, high viscosity index.

Compatible with all types of sealing materials.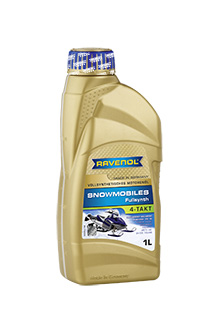 貨號: 1151311
包裝:

1L|1151311-001-01-999
4L|1151311-004-01-999
10L|1151311-010-01-999
20L|1151311-020-01-999
60L|1151311-060-01-999
208L|1151311-208-01-999
1000L|1151311-001-06-999
| 項目 | 單位 | 數值 | 規範 |
| --- | --- | --- | --- |
| Colour | | grün | visual |
| Density at 20°C | kg/m³ | 850 | EN ISO 12185 |
| Viscosity at -35°C | mPa.s | 5800 | DIN 51 562 |
| Viscosity at 40°C | mm²/s | 66 | DIN 51 562 |
| Viscosity at 100°C | mm²/s | 11,8 | DIN 51 562 |
| Viscosity index VI | | 175 | DIN ISO 2909 |
| Flash point(COC) | °C | 215 | DIN ISO 2592 |
| Pourpoint | °C | -55 | DIN ISO 3016 |
| TBN | mgKOH/g | 9 | DIN ISO 3771 |
所有數據均為約數,受習慣的變化。