RAVENOL WATERCRAFT 4-Takt
RAVENOL WATERCRAFT 4-Takt
is a synthetic 4-stroke engine oil based on high quality Polyalphaolefin base oils together with a specialist additive package designed especially for use in marine petrol engines. The formulation ensures optimum oil change intervals, a high corrosion protection and low oil and fuel consumption.
Application Notes:
RAVENOL WATERCRAFT 4-Takt is suitable for use in water-cooled 4-stroke engines operating in both fresh and sea water environments, and especially where a lubricant is required to meet NMMA FC-W standard.
Follow the manufacturer's recommendations.
Quality Classifications
RAVENOL WATERCRAFT 4-Takt is approved, tried and tested for aggregates specifying:

Specifications:
API SG, NMMA FC-W
Characteristic:
RAVENOL Watercraft 4-Takt offers:
Excellent corrosion protection in all oil-wetted engine parts.

An adhesive, pressure-and temperature-resistant oil film.

Exceptional anti-wear properties.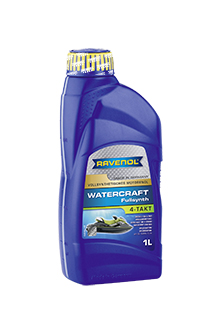 貨號: 1151211
包裝:

1L|1151211-001-01-999
4L|1151211-004-01-999
10L|1151211-010-01-999
20L|1151211-020-01-999
60L|1151211-060-01-999
208L|1151211-208-01-999
1000L|1151211-001-06-999
| 項目 | 單位 | 數值 | 規範 |
| --- | --- | --- | --- |
| Colour | | blau | visual |
| Density at 20°C | kg/m³ | 0,872 | EN ISO 12185 |
| Viscosity at 40°C | mm²/s | 102,4 | DIN 51 562 |
| Viscosity at 100°C | mm²/s | 14,8 | DIN 51 562 |
| Viscosity index VI | | 156 | DIN ISO 2909 |
| Pourpoint | °C | -30 | DIN ISO 3016 |
| TBN | mgKOH/g | 7,5 | DIN ISO 3771 |
所有數據均為約數,受習慣的變化。