RAVENOL Outboardoel 2T Teilsynth.
RAVENOL Outboardoel 2T Teilsynth is high quality 2-stroke engine oil based on high quality base oils with an ash less additive package for optimum lubricity and excellent corrosion protection.
RAVENOL Outboardoel 2T Teilsynth is especially designed for use in fresh water-cooled outboard engines with separate (Auto lube systems) or mixed lubrication.
RAVENOL Outboardoel 2T Teilsynth meets the requirements of the National Marine Manufacturers Association NMMA TC-W3 (CE 50S Yamaha, Mercury).

Application Notes:
RAVENOL Outboardoel 2T Teilsynth is recommended for "TC-W3" Fluids in all outboard engines according to the prescribed mixing ratio from the engine manufacturer. It can also be used for engines operating in seawater.
Typical mixing ratio: 1: 75
Follow the manufacturers recommendations!
Quality Classifications:
RAVENOL Outboardoel 2T Teilsynth is approved and corresponds to the following specifications:
Specifications:
API TC
Approvals:
NMMA TC-W3®, RL-29018F
Practice and tested in aggregates with filling:
Suzuki, Yamaha, Johnson, Evinrude, Mercury, Tohatsu
Characteristic:
RAVENOL Outboardoel 2T Teilsynth offers:
Contains additives, designed on the characteristics of outboard engine.

An excellent corrosion protection in all oil-wetted engine parts.

Immediate, homogeneous mixture with the used fuel (including lead-free).

An effective pressure and temperature resistant oil film.

An excellent anti-wear performance, high wear protection.

An excellent oxidation stability.

A clean burning with no deposits.

Low coking.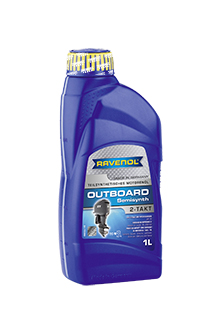 貨號: 1152200
包裝:

1L|1152200-001-01-999
4L|1152200-004-01-999
10L|1152200-010-01-999
20L|1152200-020-01-999
60L|1152200-060-01-999
208L|1152200-208-01-999
1000L|1152200-001-06-999
| 項目 | 單位 | 數值 | 規範 |
| --- | --- | --- | --- |
| Colour | | blau | visual |
| Density at 20°C | kg/m³ | 877 | EN ISO 12185 |
| Viscosity at 40°C | mm²/s | ca. 60 | DIN 51 562 |
| Viscosity at 100°C | mm²/s | ca. 8,6 | DIN 51 562 |
| Viscosity index VI | | 125-130 | DIN ISO 2909 |
| Flash point(COC) | °C | >100 | DIN ISO 2592 |
| Pourpoint | °C | -25 | DIN ISO 3016 |
所有數據均為約數,受習慣的變化。