RAVENOL MGS 15W-40 瓦斯車專用礦物型機油
RAVENOL MGS SAE 15W-40 is high performance multi-grade engine oil suitable for the lubrication of natural gas engines. It has excellent lubricating film adhesion, very good shear stability and an excellent cleaning power and high resistance to aging.
Application Notes:
RAVENOL MGS SAE 15W-40 is suitable to apply as a multi-grade engine oil for natural gasengines.


Quality Classifications:
RAVENOL MGS SAE 15W-40 is approved and corresponds to the following specifications:


Specifications:
ACEA A3/B4/E2, API CF-4/SJ


Approvals:
MAN 3271-1 (Fahrzeugmotoren), Renault RGD, TEDOM Group 1P, MB-Freigabe 226.9


Practice and tested in aggregates with filling:
Volvo CNG
Characteristic:
RAVENOL MGS SAE 15W-40 offers:
A very good shear stability.

Very good cold start behaviour.

A high oxidation stability.

Avoids the formation of accumulations of mud (black sludge).

An excellent viscosity temperature behaviour.

No problems with the use in catalyst vehicles.

Convincing detergent and dispersant attributes.

High security reserves even under limited lubrication conditions.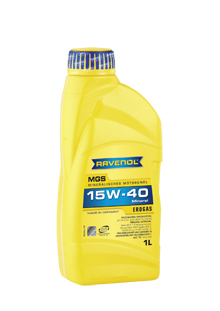 貨號: 1133100
包裝:

1L|1133100-001-01-999
4L|1133100-004-01-999
5L|1410119-005-01-999
10L|1133100-010-01-999
20L|1133100-020-01-999
60L|1133100-060-01-999
208L|1133100-208-01-999
1000L|1133100-001-06-999
| 項目 | 單位 | 數值 | 規範 |
| --- | --- | --- | --- |
| Colour | | gelbbraun | visual |
| Viscosity at 40°C | mm²/s | 97,5 | DIN 51 562 |
| Viscosity at 100°C | mm²/s | 13,4 | DIN 51 562 |
| Viscosity index VI | | 137 | DIN ISO 2909 |
| Pourpoint | °C | - 28 | DIN ISO 3016 |
所有數據均為約數,受習慣的變化。